After you have built your website, one of the next places to focus on in order to continue to establish the strong foundation of your online presence is online business directories or online business listings. In the days of yore, businesses HAD to be in the print yellow pages. How else could people contact you on their connected rotary phones! Obviously, things have changed since then and the printed directories have become booster seats, paper mâché or used by various account managers and sales reps (myself included) to prospect for clients!
The landscape for local listings is incredibly complex with data being captured and shared from many sources.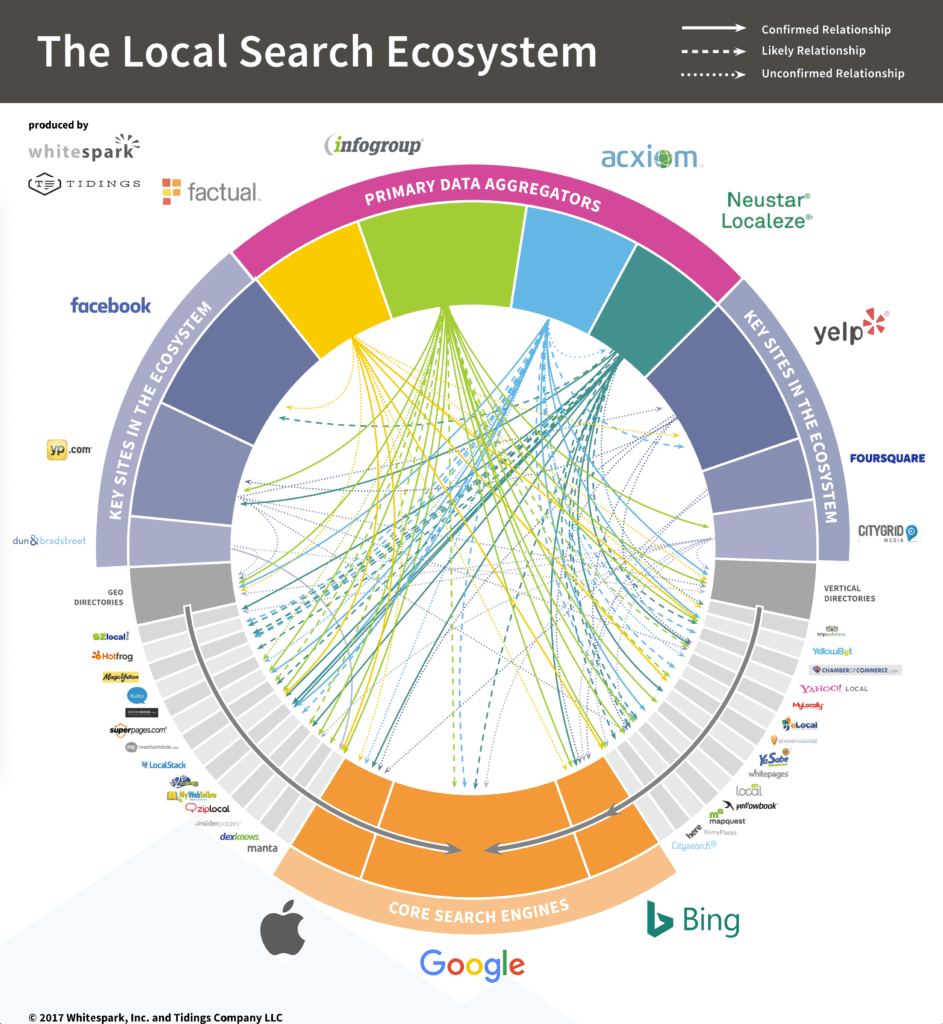 For a local business, this can create problems if an address or phone number is incorrect for example that data can get picked up and distributed and cause inconsistencies about your business. Is this a big deal? Well, 80% of consumers say that they lose trust in local businesses if they see inaccurate listing information online! The business owner is probably unaware of these errors, but consumers are more likely to blame the business than the directory for the bad data. Another challenge is that these listings can get corrupted, picking up and distributing bad data from one source, so vigilance is required to monitor and maintain accuracy.
Google My Business Listings
Business owners typically get frustrated with managing the many online aspects of a business and may think that if they have at least claimed their Google My Business (GMB) listing, then they are safe since, that is where most consumers go anyway, right? Well, as popular as Google search is and yes you MUST claim your GMB listing, there are hundreds of other places that consumers are using to find your business, and these should not be ignored. In fact, when we look at the list of over 50 of the top local online business directories, we can see that they have incredibly high domain authority. What does that have to do with anything?
Healthy Backlink Profile
When you include your website in your business listing (another MUST) then these domains will provide "backlinks" to your website. These are ranking factors that search engines can use to measure the quality of your site in order to increase your rankings on search pages. This is one of the many techniques used to improve search engine optimization (SEO). Hundreds of sites with high domain authority linking to your website is a great vote of confidence that your site is important and should rank higher.
In conclusion, online business directories need to be accurate, maintained and well distributed to help your customer find you and have confidence and trust in your business. Another benefit is the improvement in SEO with the development of a healthy backlink profile. There are powerful tools that can help give business owner's the peace of mind that this aspect of their business is taken care of. You can find many of our products that help in the "Listings" section of our store.