The Backdrop
Gillespie Insurance Group started with Gig in May of 2020. They had a main goal of generating more leads, we have worked on accomplishing this through driving targeted display traffic to our lead capture website.
The Plan
We came up with a plan to help Gillespie generate more leads by utilizing Google Display Ads to direct traffic to the website that we also created for them. Since Gillespie has multiple locations, we have created our marketing plan accordingly to best benefit this business.
Here are some examples of how we were able to help Gillespie:
This is a snapshot of Gillespie Insurance's location-based data for searches and views. In the first 6 months of utilizing our strategy, Gillespie saw significant increases in searches and views. Discovery was the main way people found Gillespie online. Demonstrating that our Google Ads efforts made them more visible to prospective customers. 

 As you can see from the graph above, before Gillespie started with us, their listing score online was only 527; after working with us this past year, that number has jumped to a whopping 926! Meaning that through our efforts and utilizing our listing distribution tool, we have been able to optimize Gillespie Insurance's listings across the main data distribution channels.
One of the main aspects of our digital marketing strategy for Gillespie was utilizing our local online presence package. Here is how the products within our LOP package have impacted Gillespie Insurance for the better:

You can see from above that Gillespie has been doing a great job of using our reputation management product to monitor and respond to reviews! This is a key part of every business, and our product makes it that much easier to do.

Their recent reviews specifically have been a great success and show just how important having good reviews is for your business.
Last but not least, let's take a look at how our Google Ads campaigns have impacted Gillespies traffic over time, consequently resulting in conversions.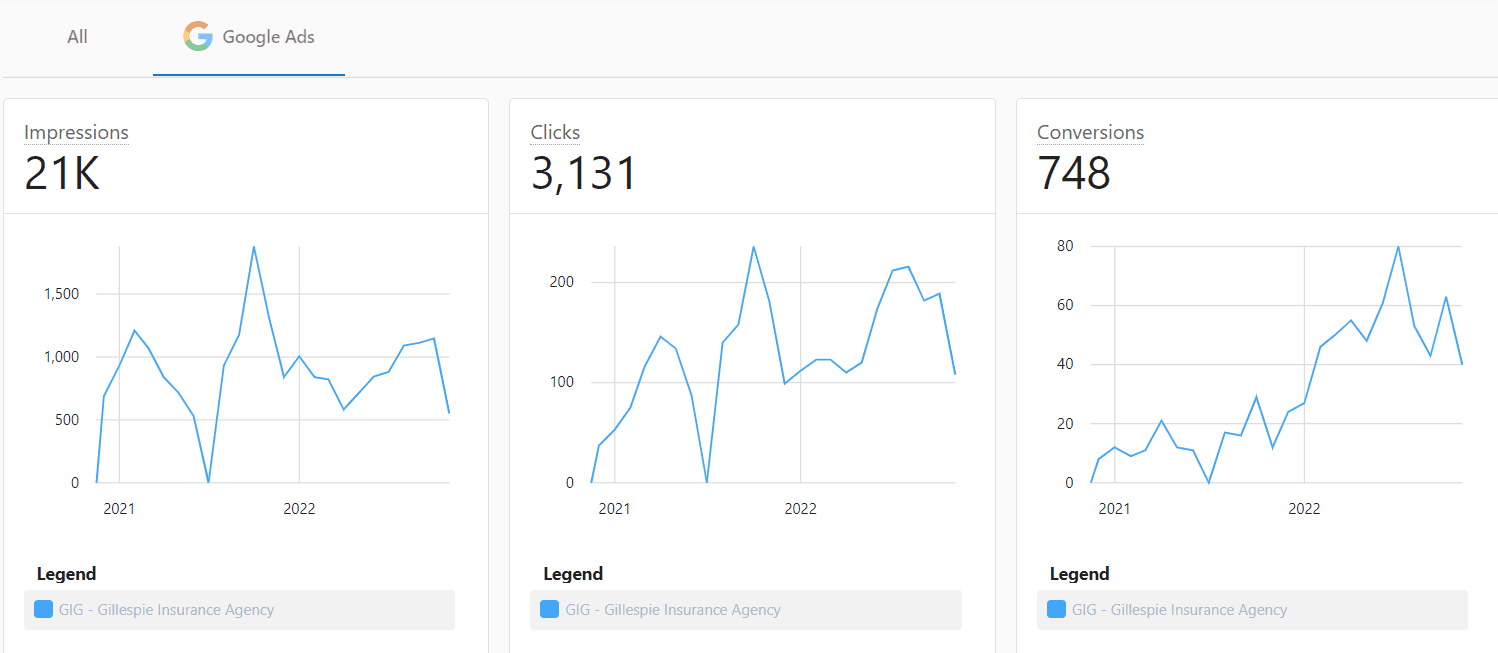 As you can see from the above snapshot, in the last year of working with us, Gillespie Insurance has had 21,000 impressions, which have led to 3,131 clicks and, consequently, 748 conversions. Demonstrating that our Google Display advertising efforts have helped to accomplish Gillespie's goal of driving more traffic to their website. 
We have greatly enjoyed partnering with Gillespie Insurance and hope to continue to help them achieve their digital marketing goals in the future!