The Backdrop
Greene County Tourism started with us in November  2021, with the goal of improving their footprint online to draw more visitors to the county's attractions. Nestled in Central Virginia as the gateway to the Blue Ridge Mountains and Skyline Drive, Greene County has amazing options for recreation, hiking, history, wineries, breweries, and more. 
We launched a Google Ad Campaign for Greene County as a straightforward, effective way to get more visitors to their website!
The Course Of Action
We have been running two ad campaigns for Greene County. One for 'General Tourism', hitting a broad swath of the east coast. And the other for 'Day Trippers and Overnighters', hitting just those within a day's drive.
These are targeted Ads that appear in Google Search results when potential visitors search for our keywords:
Day Trippers & Overnighters
For this campaign we selected keywords that would help generate more traffic, such as:
 Weekend Getaways
 Day Trips From VA
 Day Trips From DC
 Weekend Getaway In Virginia
These keywords help our Ads get noticed by the right customers!
Here are the same numbers as above, just broken down a little more. We are very happy with the positive results we are seeing for Greene County Tourism.
Website Visitors Year Over Year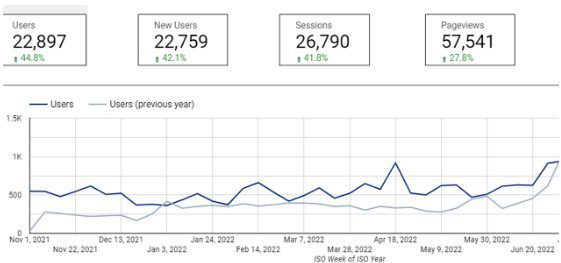 From the beginning of our relationship with Greene County Tourism to July 2022, they have skyrocketed in website traffic. With a 44.8% increase in users, a 42% increase in new users, a 41.8% increase in sessions, and a 27.8% increase in pageviews!
Included in our general digital strategy consulting is something called Listings. We made sure that all of Greene County's listings were evenly distributed across the web! 
Here is how they are ranking:
Green County Tourism started with a listing score of 339, with the industry average being 379. After working with us, we were able to get their listing score up to 718! Well above the industry average.

We are very happy with Greene County Tourism's overall growth, and we look forward to continuing our partnership with them!