Dr. Anthony Zarella with Horizon Family Eye Care has been one of our longest-standing and most successful client relationships. They've been with us almost since the beginning of Gig Strategic, starting together in August 2019. They continue to this day with remarkable success from a simple digital package.
When Horizon first opened, their standing in Google was in disarray. Google had an incorrect address listed for them, and they were hardly coming up for any of their target keywords.
We put together a straightforward plan for them including our Local Online Presence Package, Level 1 SEO, and weekly Google Business Profile Posts.
The results have been robust and consistent! Here is what we have been able to do for their target SEO keywords. (Click to enlarge).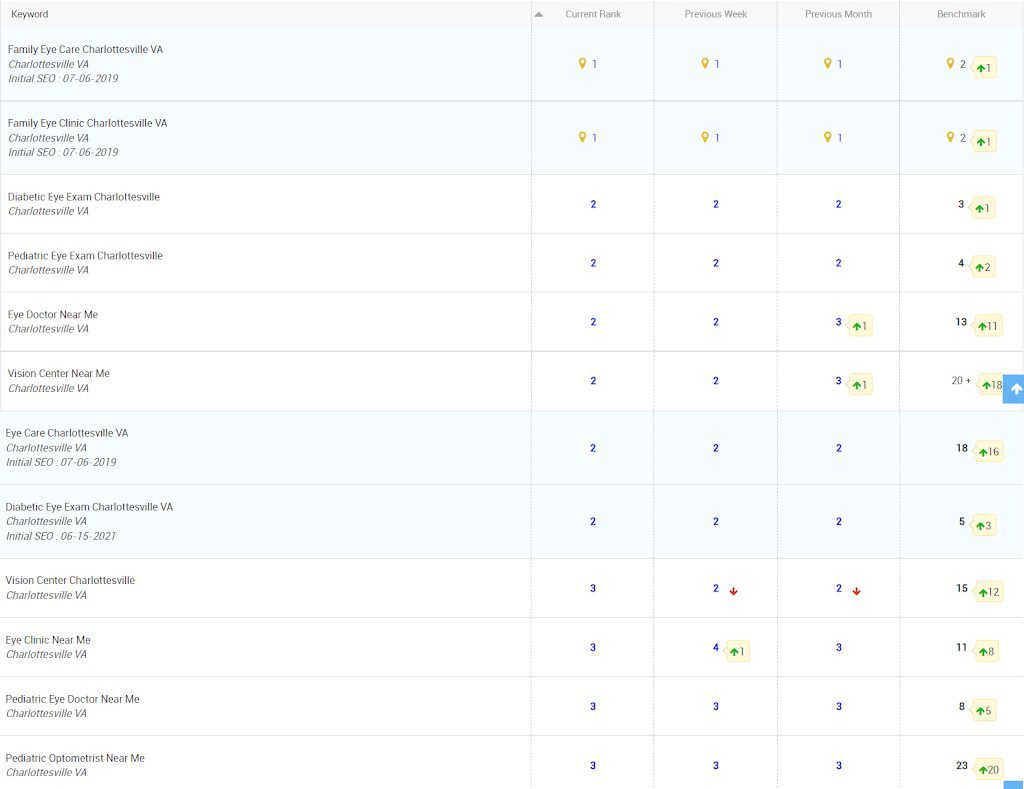 This is a great slate of top rankings with large improvements over benchmarks.
To show what this looks like in Google Search: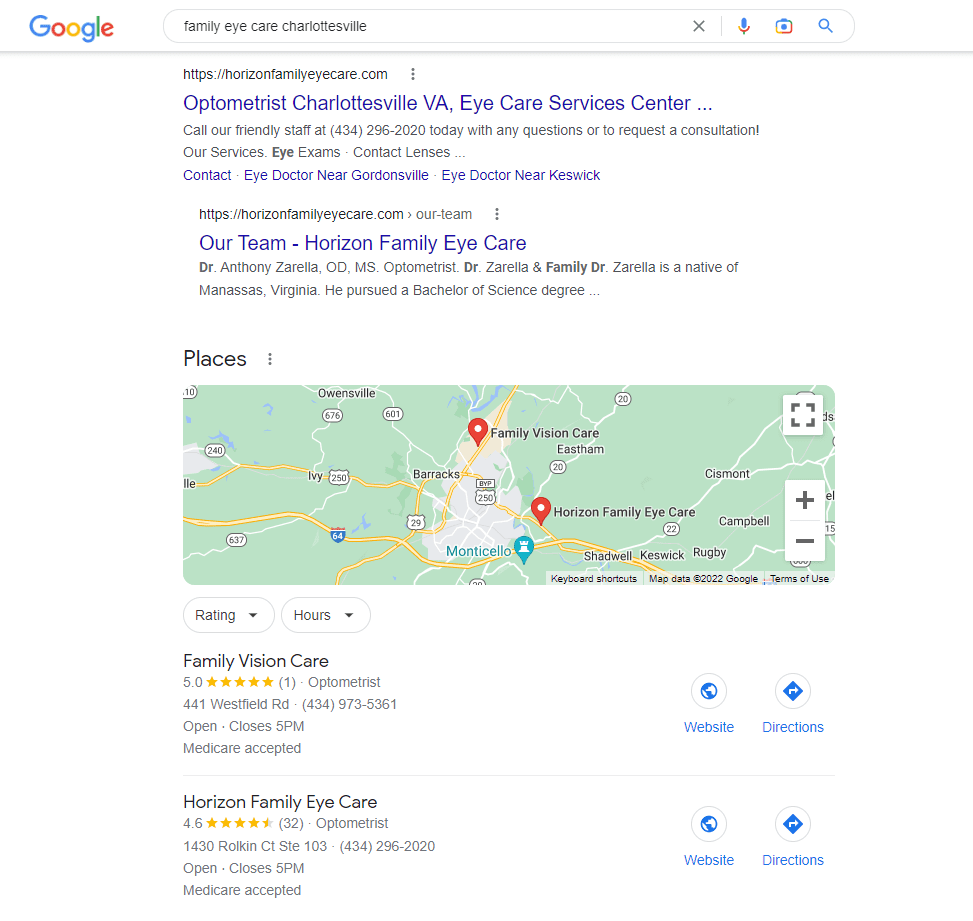 We are #1 Organically , #2 on the map, and then our Yelp Listing and Facebook profile are #2 and 3 organic as well. This represents domination of the top results through our 'Be There and Be Sticky' strategy. 
It also demonstrates the importance of holistic digital marketing and ensuring your data is consistent across platforms. That way, Google can see your brand as a strong, well-rounded entity, and will reward your efforts accordingly. 
Tangible Results – Huge Increases In Views, Visits, And Customer Activity
For context, here is a sample of Horizon's views in Google right as we first started. August 2019 – October 2019.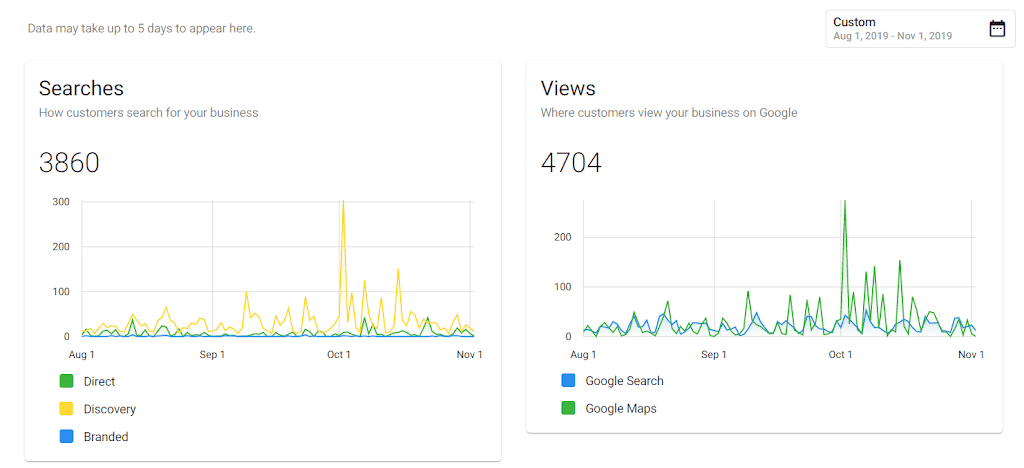 Here are the unequivocal results one year later, in 2020: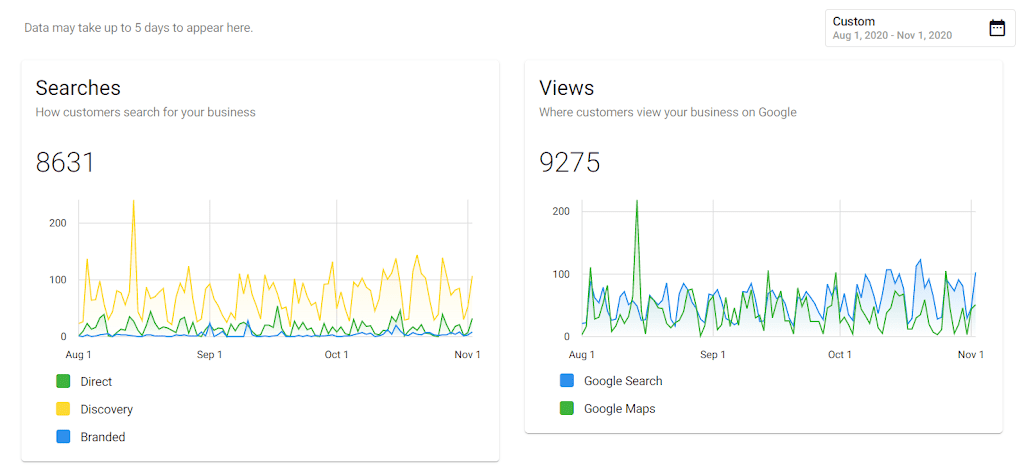 And 3 years later, bringing us to August – Oct 2022: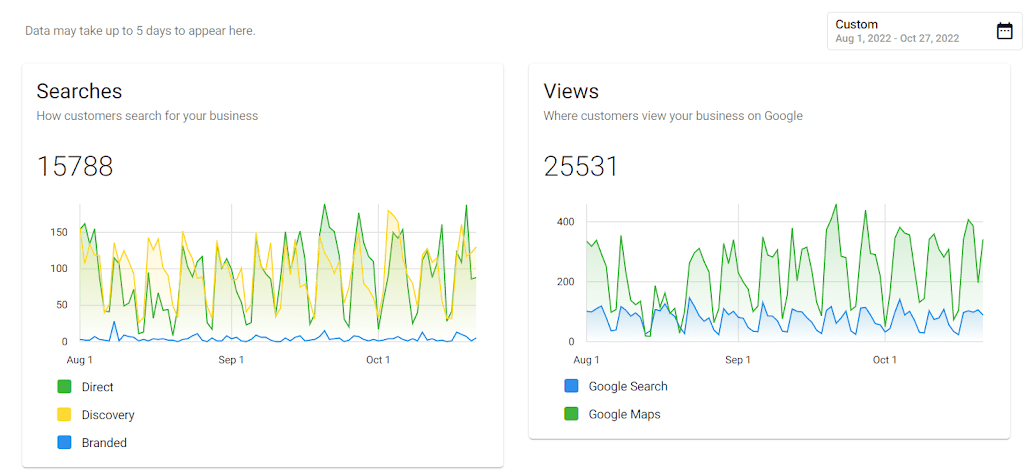 This is over a 300% increase in searches and 400% increase in views!
Let's look at one more metric, customer actions from the benchmark, and one year down the road. Starting off at only 342 in a 3 month period (direction requests, website visits, and calls)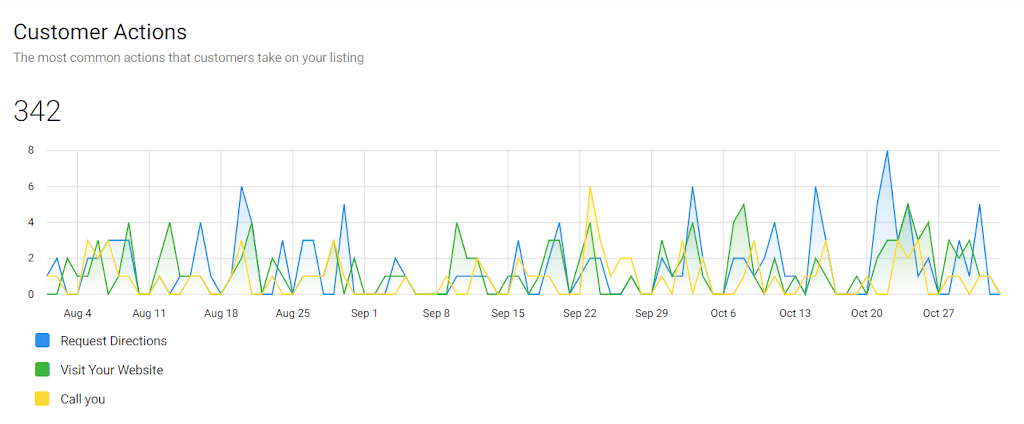 And just one year later, a 123% increase in customer activity: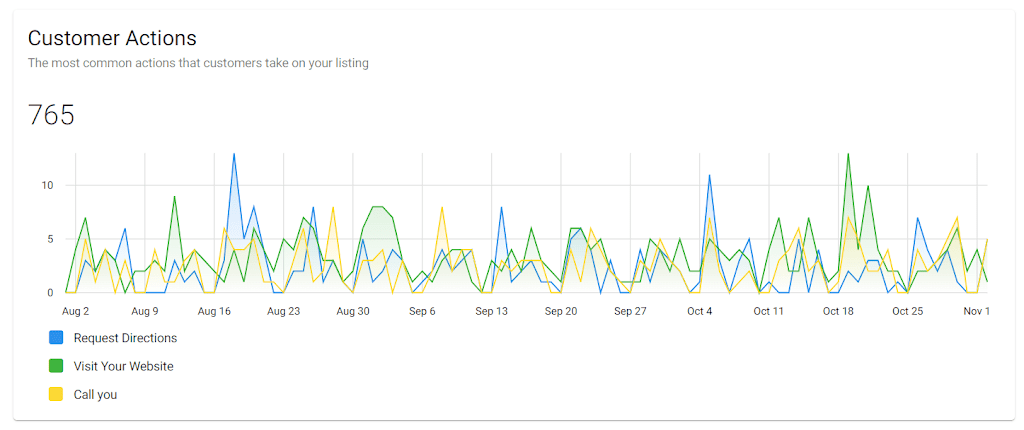 The Horizon Family Eye Care Team is very pleased with the results, as are we. It just goes to show what a dedicated digital approach can accomplish, even on a small scale.
Here's what Dr. Tony has to say about working with us:
Thanks Gig Strategic!  I had difficulty understanding and optimizing my digital marketing and had experiences with other companies that over-promised and under-delivered. After working with James & Max I saw a dramatic improvement in my listing score within two months and I am currently sitting above the 95th percentile for listing scores. I am also ranking in the top five for multiple keywords and on page one of google for almost everything that matters!  Most importantly, I understand now what is being done, why it is working, and why it is worth investing in. Honestly, I couldn't have asked for a better result and my business is getting off the ground because of my association with this company..  I can't emphasize this recommendation enough!  Pay the man and get started!
– Dr. Tony