The Preserve
A luxury real estate community needed a digital blueprint from the ground up. Logo & website design. Social media management. Driving new traffic.
The Preserve – A Legacy Of Luxurious Mountain Living
Way out on the western edge of Virginia, nestled in the rolling Alleghenies, lies a one-of-a-kind real estate development called The Preserve. It encompasses four distinct neighborhoods over 12,000 acres, the vast majority of which have been permanently set aside for natural conservation. Adjacent to The Omni Homestead Resort, homeownership in The Preserve represents an opportunity to build a lasting legacy.
The Preserve came to us because they needed to build up their digital presence, completely from scratch. Website, logos and collateral, social media, advertising, you name it. We have been happy to oblige. Our partnership with The Preserve has allowed us to flex our muscles in every aspect of the digital sphere.
We established social media accounts and compose regular posts to build brand awareness and engagement.
Logo & Website Design
Our graphic design team worked to create the perfect logo for The Preserve. Something that would appear timeless, yet also harkens back to tradition. Something that spoke to natural beauty and elegance, yet remained understated. 
In the end, we were able to capture exactly what we were looking for. As a final touch, the tree emblem in the logo represents a laurel oak, part of the region's trademark flora.

The Preserve also needed a website that matched the grandeur of its physical real estate. We built a customized 10 page site that highlighted the distinct character of each community within The Preserve. We bring The Preserve's rich history and gorgeous views to potential homeowners in a complete digital package. Fully explore the website here.

From the graphic above you can see the amazing change in the Listing Score! When The Preserve started with us in September of 2016 their Listing score was at 155, jump forward to October 2022 they are now well above the industry average at 870!
Custom Videography 
We partnered with a drone videographer to capture the landscape of The Preserve in all its glory.
Video is a key creative asset for both the site and our targeted advertising strategies. 
Social Media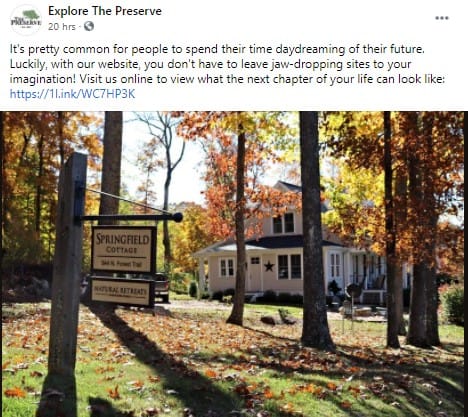 Another digital linchpin for The Preserve is social media presence. The consumer journey for high-ticket items, like luxury real estate, is long and winding. We've needed to build brand awareness and amass a following for The Preserve across a wide geographic area. 
Social media, especially boosted posts, allow us to do just that. We manage the creative strategy and scheduling for all of The Preserve's social media to showcase their stunning vistas and unique lifestyle experience.
The Preserve is active on Facebook, Instagram, LinkedIn, and Google My Business.
Digital Advertising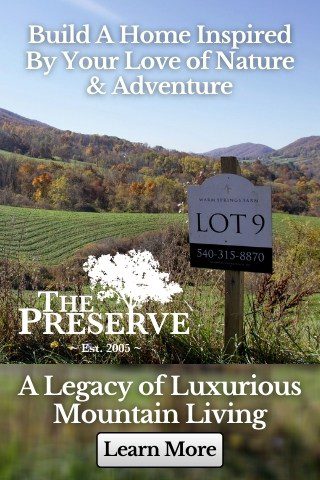 The Preserve has homesites ready and waiting—we needed to tell the world.  We launched a mobile display campaign making use of demographic targeting and AI. We also enabled geo-fencing for folks who visited the Omni Homestead Resort in Bath County, right next door to The Preserve. This way, we have been able to target people who are already familiar with the region's charms and fit luxury real estate demographics.
Social Mirror Ads—one of our newest offerings— have proved to be a powerful ad strategy for The Preserve. These ads mimic the look and feel of social media posts, but are projected as display ads across multiple DSPs.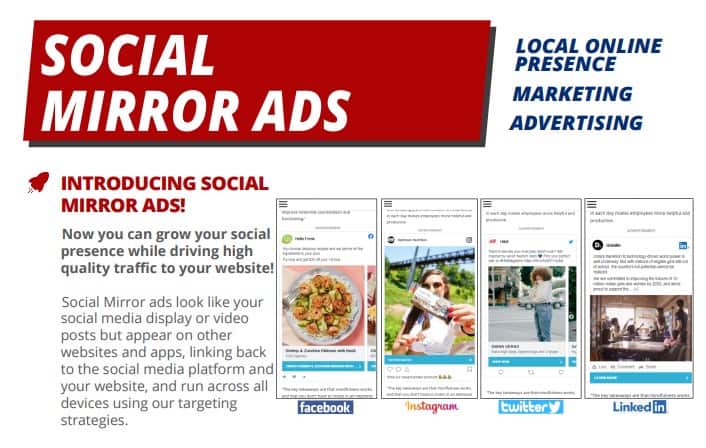 In the first two months of 2021 alone, Social Mirror Ads have delivered over 200,000 impressions and 4,500 clicks for The Preserve. At a click-through rate of  2.38%—over 20x the national average for display ads!
In building our digital presence for The

 

Preserve

, we sought to partner with a firm with broad capabilities. We chose Gig Strategic through a vetted process, and have been more than happy with the results. They have helped us with everything, from website and logo design, to social media, to digital advertising.